OMG! I finally got a chance to wear my new lip colour from my M.A.C. Liberty of London lipstick! Here's my FOTD: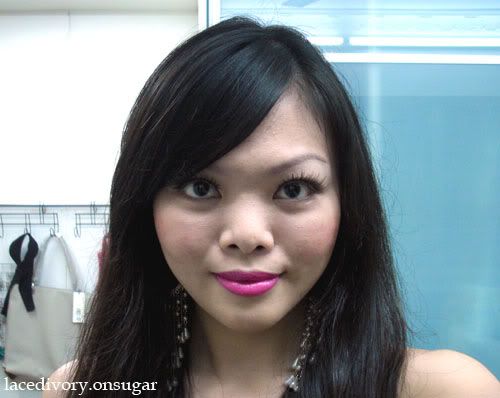 Just to show you how the lip colour looks. Awesome, isn't it? My sister said I looked like a barbie doll. Of course, I think barbie dolls have nice porcelain complexions. Mine is erm… =S Well, I'm working on it, babes!
I drew in my eyebrows as well, using my Bobbi Brown eyeshadow. Here's the low down:
For Face: Shu Uemura's Black Compact Foundation (sorry girls, I don't know which shade I'm using!) and Clinique's Blushing Blush Powder Blush in 104 Carefree Coral.
For Eyes: M.A.C.'s eyeshadow in Vanilla (highlighter), The Body Shop's eyeshadow in Honeycomb from the Shimmer Cubes Palette 06, Revlon's eyeshadows in Pink Freeze and Burgundy from the Colorstay palette in 05 Blushed Wines and Shu Uemura's Farfallina lashes.
For Brows: Bobbi Brown's eyeshadow in Chocolate Mauve.
For Lips: M.A.C.'s Liberty of London Lipstick in Petals & Peacocks.
Overall, the shades I used for my eyes were very light shades, used just to balance out the entire look. They can't really be seen here, so my apologies for that. I've come to realise that fake lashes, though really pretty, can be really heavy too! Gosh, these ones I had on were heavy, I'm telling you.
Hope you girls liked this look! <3