I wrote this entire article once and when I clicked "Create Post," I got a window that said: "Operation Timed Out." OMG. Kill me now please. Onsugar should totally have the autosave function that Blogger does! Ok, here's my second time writing this…
I am currently on a quest to find a foot cream. My heels and some parts under my toes are kind of dry and I want baby soft feet! I bought this foot cream from a local pharmacy at AMK Hub and it was cheap, probably around $12. It worked but I would not get this again.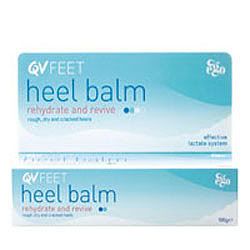 QV Feet Heel Balm
More about the product::
For the correct usage, you have to use this twice a day at the beginning. After that, once your skin returns to normal, use this about once or twice a week to maintain it.
What I like about the product:
1) The price. It's affordable.
2) It's easily available in Singapore. You can probably find this at any pharmacy, like Guardian.
3) It works like a miracle. Seriously. The first time I used it, my skin did a 150 degree turnaround just mere hours after I'd applied the cream! Why 150 and not 180 was because there were still tiny bits of dead skin around but the rest of my foot was baby soft, like I'd never needed this cream in the first place.
Neutral feelings about this product's:
1) Packaging. It comes in a toothpaste-tube. Some people like tubes, some like pump bottles, some like spray cans.
What I dislike about the product:
1) The SMELL omg. It doesn't smell nice at all! Everytime I used it, my feet wouldn't smell nice. It didn't smell terribly bad but it didn't smell nice either. I tried it on my boyfriend and it made his feet smell too. Once I stopped using it, the problem went away so it was definitely not my feet (nor his) that stinked.
2) The texture. It is too oily for my liking. I have to wear socks when I have this cream on. Otherwise, I'd be getting it all over the floors and I might even slip and fall.
Other thoughts:
If there were an emergency, like if I've got a big day the next day, I'd use this overnight (and then wash my feet thoroughly before the event). If not, I wouldn't. The smell and oiliness just put me off. For a foot cream that I can use on a regular basis, I'd like something that smells nicer or has no smell at all.