I met up with some girl friends and did this look for the evening out in town.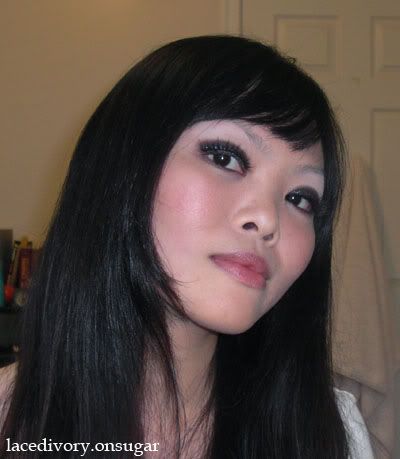 For Face: Shu Uemura's Black Compact Foundation, Clinique's Blushing Blush Powder Blush in 104 Carefree Coral and Physicians Formula's Magic Mosaic Multi-Coloured Custom Blush in Nude/Warm Nude.
For Eyes: Urban Decay's Primer Potion, the bottommost matte shade and the 2 top shimmer shades of my Wet N Wild Coloricon palette in 248 Lust, Lise Watier's Eye Glitter Liner in Midnight Star, Lancome's Virtuose Precious Cells mascara and Shu Uemura's Farfallina lashes.
For Lips: Nivea's lip balm and Bobbi Brown's Lip Sheer in Mauve. I also added my Light'N Shine Lip Glaze in shade 01 by Gosh Cosmetics on top of it after the pictures were taken.
I liked the glitter on the eyes! I used the glitter eye liner as an eyeshadow till my crease just to add that sparkle when i blinked my eyes. Pretty, right? =D This time, I also tried on some mascara before putting on the falsies. I think it actually looks better than not having any mascara on because the mascara helped to curl my lashes a little. Actually this look came about when I just wanted a litlte eyeliner for my eyes to go with my hot pink lipstick from M.A.C. and got carried away with the eyeshadows. In the end I skipped the hot pink and went for a neutral lip colour. I didn't want to look overly made up because my girls were not exactly dressing up this evening.
Hope you girls liked it.