L.A. Colors 5 Color Metallic Eyeshadow Palette in EP44 Enchanted
I recently bought this palette on a whim because it cost less than CAD$4, tax included. It's madness. There were a few other palettes out there but I picked the green one because I don't really have greens. Here are the palette and swatch:

Palette
Swatches with and without UDPP

The swatch above correspond to the colours from left to right of the palette. The colours are not very pigmented, as expected. The top colours were applied without UDPP while the colours below were applied over UDPP (I feel like I'm writing a scientific paper). I'm glad I got this though. It's so cheap and the colours are shimmery. I still need my Coastal Scents palette!

Mica Bella Cosmetics Shimmer Powder in 32 Tropic
I got this loose mineral shimmer powder at a Mica Bella Cosmetics store in Saint John over the weekend purely due to me never having tried this brand before. I swatched almost all their colours until I decided to get this turquoise-like shade. Here are a couple of pictures.

The shimmer powder in 32 Tropic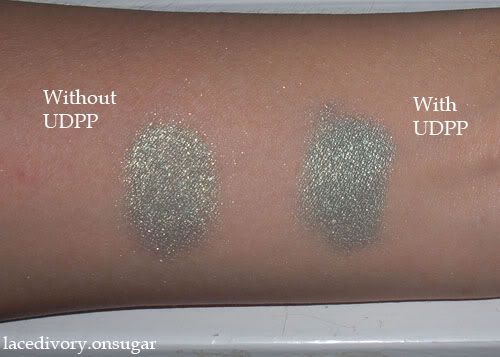 Swatch

The colour on the left of the swatch is without UDPP while the one on the right is with UDPP. This colour is so pretty and I really love it. You can visit their website at MicaBella.com. I just love discovering new brands (cosmetic, skin care and fashion)! Don't you think they just make your life more vibrant and give you so many more options to choose from?
I'm enjoying my final week in Fredericton and am ending it with an awesome beach party in Parlee Beach this weekend before I return to Singapore. Till the next entry, have a great end to this week and blasting good weekend!