I got this from my mother and tried it out a few times. Here is a review on it.

The box containing 15 sachets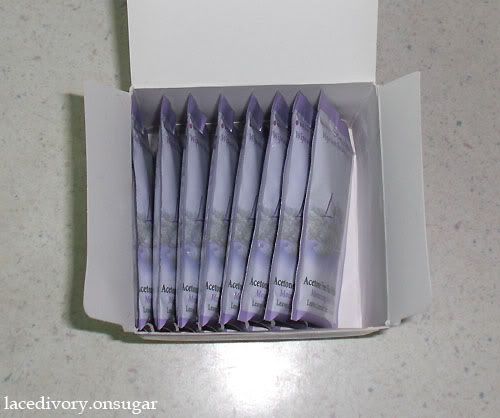 I've used some
A sachet containing one folded piece of wet wipe

More about the product:
Each box contains 15 individual sachets of folded wet wipes of the acetone-free nail polish remover with aloe vera extract. The one I have is scented with Lavender. There are other removers of the same range scented with rose, jasmine and honey and there is also an unscented version. Here is the very short ingredient list for this product:
Propylene Carbonate IPA, Aloe Vera and essence of Lavender.
What I like about the product:
1) It comes in individual sachets so I can bring however many (or few) sachets I like around with me instead of having to lug a whole bottle of nail polish.
2) It's easily available in Singapore. You can probably find this at any pharmacy like Guardian or Watsons (I'm not sure where my mum got this from).
3) In each sachet, there is a folded (a few times) sheet of wet wipe. On the packaging, it says one wipe for 10 nails. However, you can cut a wipe in half and use one half for 10 nails each time. The other half can be kept back in the sachet for future use. But if you have very dark or many layers of polish on, it's perhaps better to use the whole sheet for 10 nails.
4) The scent isn't strong so I don't feel like I'm breathing in a whole lot of chemicals when I use this.
Neutral feelings about this product's:
1) Touch up swab included in each sachet. The purpose of this swab is to push your cuticles and to clean areas and the sides of your nails not reached by the wipe. I haven't used any of it so to me I guess there isn't a difference whether there is this swab or not.
2) Acetone-free compound. My skin isn't sensitive to acetone so this does not make much of a difference to me either.
What I dislike about the product:
1) The wipes can be a bit too wet. It's not dripping wet like some facial mask sheets such that you get extra liquid in the sachet. I suppose, however, it's safe to say that the wipes are definitely thoroughly soaked.
Other thoughts:
This is really easy to use and I use this everytime I run out of my Sally Hansen Strengthening Polish Remover or when I'm too lazy to manually pour remover onto cotton pads or tissues. It's perfect for lazy people like me.