This is yet another item in my student package from the Make Up For Ever Academy Singapore. It's a pretty interesting palette. Check it out below:

The closed palette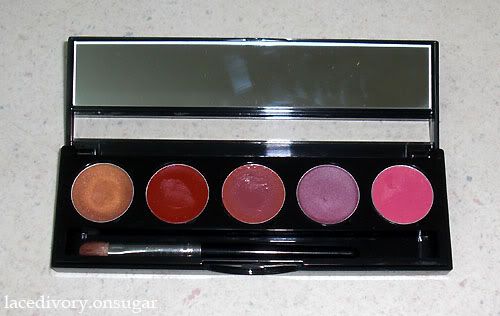 The 5 lipstick colours, mirror and lip brush
Swatch

As you can see from the pictures I have, this palette has really interesting colours in it! Gold, red, mauve, purple and barbie doll pink (not their real colour names)! The shades are, from left to right, 316, 207, 216, 303 and 409.
I won't be doing a review on this palette since I've not used it on myself (now, why didn't i) so this shall just be a swatch post. I've used this on my models, which explains the brush marks left behind. All the colours, maybe except for the gold one, have a creamy sheen to them. The gold one is more shimmery than creamy. And yes, the colours are helluva pigmented!
I'm definitely bringing this palette with me to France. I have a feeling I'll end up loving this a whole lot more than I do now!