I received so many goodies from L'oreal when I went to the CLEO office for our first briefing. Each of us girls got a little pouch that contained 4 eyeshadow duos, 2 eyeliners, 1 mascara, 1 blush, 1 lipstick and 1 pendant! The pouch that I got was blue. Sigh. I wanted the pink one because it was HOT PINK and that's my favourite colour!

The blue pouch that reads, "Cosmetics Addicts."
A peek inside!
The "loot."

There are a total of 8 HIP Bright Shadow Duos for this range: Adventurous (pinks), Bustling (browns), Flamboyant (purple and gold), Flare (corals), Flashy (teal and cream), Riotous (greens), Showy (blues) and Platinum (black and silver). The ones I got were Adventurous, Flashy, Showy and Platinum. I actually wish I'd gotten Flamboyant as well but I guess I can't be too greedy! Out of the four HIP Color Chrome Eyeliner shades (Black Shock, Silver Lightning, Gold Charge and Violet Volt), I received the black and silver ones.
Being really excited about the freebies, I decided to give some of them a try that very night, when I went out for dinner with a girlfriend. I decided on a blue-teal eye colour combination for the evening. Check out my face of the day (FOTD)!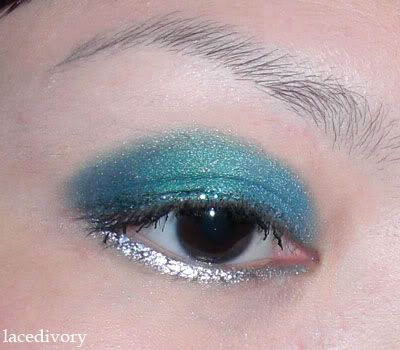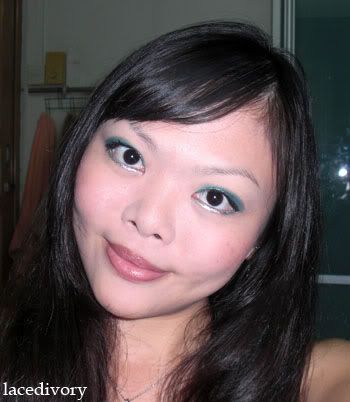 For Face: Shu Uemura's Black Compact Foundation and Clinique's Blushing Blush Powder Blush in 104 Carefree Coral.
For Eyes: Urban Decay's Primer Potion, all four colours from L'oreal's HIP Bright Shadow Duos in Flashy and Showy, L'oreal's HIP Color Chrome Eyeliner in Silver Lightning, Lise Watier's Eye Glitter Liner in Midnight Star, Shiseido's Mascara Base and Lancome's Virtuose Precious Cells mascara in 01 Black.
For Lips: Nivea's Hydro Care lip balm and Bobbi Brown's Lip Sheer in Mauve.
I was surprised by the colours of the eyeshadows. You know how every time some brand claims that their makeup is highly pigmented but it never really is? Well, L'oreal's HIP range really performs! My favourite of the lot has got to be the eyeliner. It's creamy smooth so I don't have to exert too much pressure on my sensitive lids. Plus, it's my first ever silver eyeliner!
To get the look that I did, I applied the lighter blue shade from Showy all over my eyelids till a little above the crease. Then, I added some of the darker blue shade from the same eyeshadow duo to the outer one-third of my lids. Next, to blend it well, I used the teal shade from Flashy in between the two blues. I suppose you can tell by the picture I have of my eye above. Finally, I used the cream colour from Flashy as a highlighter on my browbones.
I also used a tiny bit of the dark blue shade from Showy to line the outer bottom of my lids before putting on a dash of Silver Lightning. The Lise Watier Eye Glitter Liner was added on my top lids for extra sparkle. Tadah! Simple enough?

The closed compact.
L'oreal's HIP Bright Shadow Duo in Showy.
The sponge applicator at the bottom of the compact. I didn't use this though. I used my Make Up For Ever brushes.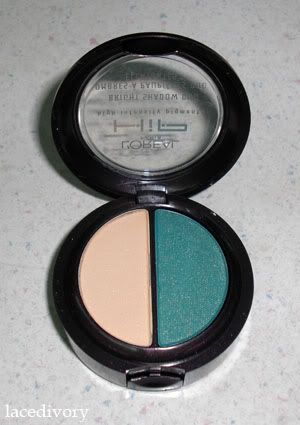 L'oreal's HIP Bright Shadow Duo in Flashy.
L'oreal's HIP Color Chrome Eyeliner in Silver Lightning.

I'm still reeling in excitement over my new "gifts." Can't wait to use them all!