I am in love with this store. Marionnaud is a store that can be found all over France and I went to the nearest branch to check it out while I was searching for a present last week.
The store is like Sephora or Sasa. Everything they sell is related to health and beauty. They have perfumes, makeup as well as body foams and moisturisers (which have very pretty packaging and smell good! so tempting!). I was treated very nicely by the sales lady when I was there and she had this nice smile on her face, like she was really enjoying my company and explaning things to me. I liked her, she was so cute!
The one thing about good service is that it actually kind of makes you want to buy more stuff from the store. So I ended up buying a new wand of Dior's Iconic Extase (they ran out of Iconic Extreme, which I really liked) Mascara. I checked out the price of the Miss Dior Cherie perfume and the smallest bottle costs about 51 euros. I'm gonna save up for it. Too bad work only starts in October!
Anyway, I signed up for their membership since it was free and instantly I had 25 points in my account. 1 euro spent = 1 point. The card came with little vouchers such as a 10-euro voucher for selected perfumes (with a purchase of at least 70 euros) and 5 euros off selected makeup items (with a purchase of at least 40 euros). And finally, I received samples of perfume from Givenchy and Cartier. I never knew Cartier made perfumes! I actually got another moisturiser sample but because it had alcohol in it, I threw it away.

My membership card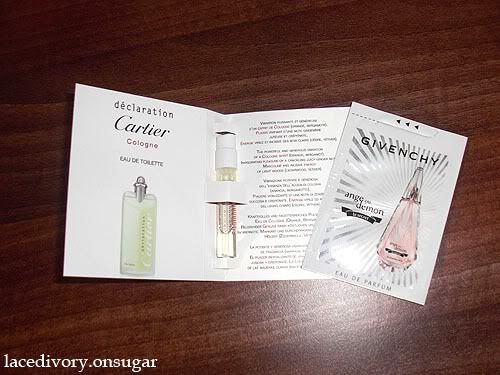 Perfume samples

I love Marionnaud. Everything about it is awesome but most importantly, it's just a few steps away from my apartment! Oh, I could live like this.