This was my first manicure ever in France! I went to get my nails done at Institut Vendôme in Lyon with Chloe and Norma when I visited over the weekend. First up, some pictures of the salon, which does treatments like body massage, spa, manicure as well as teach yoga classes:

The area near the front desk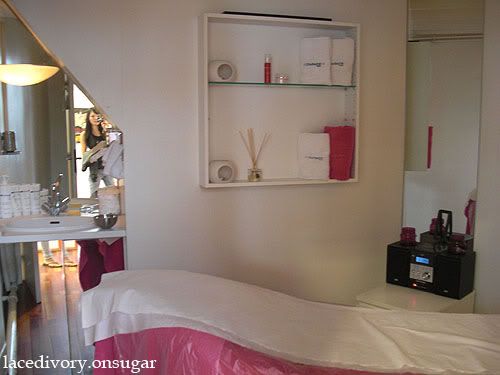 One of the rooms in which you get your treatments
Pink robes and an orange swing door

The interior was pretty and the one thing I liked about the salon was that it was colourful but not too OTT. Pink and white seemed to be the main theme for the interior design and I loved it! Even the staff members wore white over hot pink tees.
We were led to a tiny little room where we got our nails done. Chloe went first, followed by me and then Norma.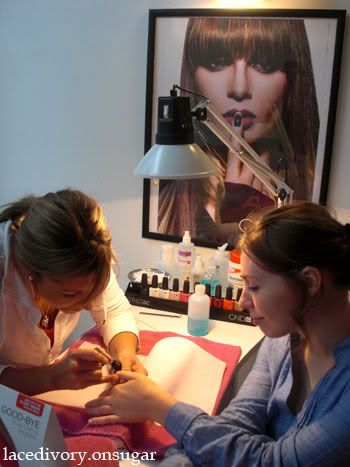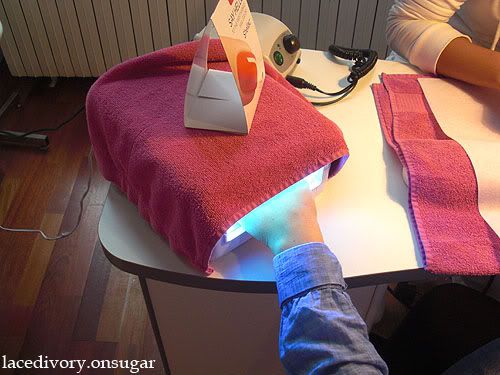 The cool thing about Shellac – UV technology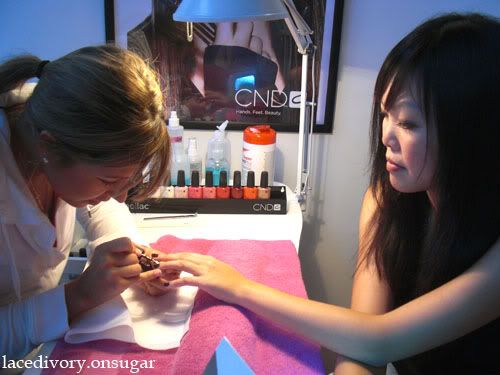 My turn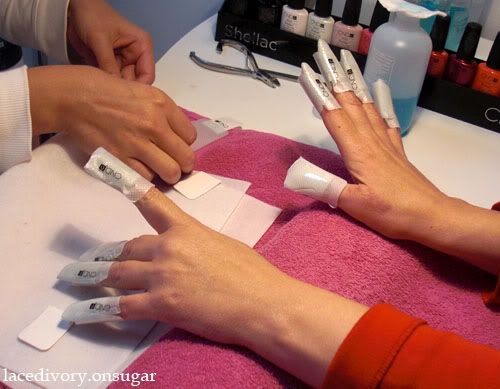 Norma getting her previous polish removed before the manicure

Shellac is a new technology from CNDC whereby the nail polish is set to dry on your nails with UV light! So after each coat, you have to put your hand in the machine for a few minutes and voila, you get a dried coat. The manicure is supposed to last for 2 weeks without chipping or anything. The only setback is the limited range of colours that they have for Shellac. I chose the only dark colour they had – Fedora. Here's a picture:

My new Shellac-ed nails

It's always fun to try new things isn't it? I asked the girl if the UV light would cause our hands to tan and she said yes! However our hands looked the same after the manicure, albeit nicer. I guess if you do it everyday you'd get tanned hands? LOL. What do you think? I just found out that you can also mix the colours to get new shades. Which is your favourite?