I came across this yummylicious-looking recipe and I think I'm going to try this out one day! It'll be awesome if I can make this, no?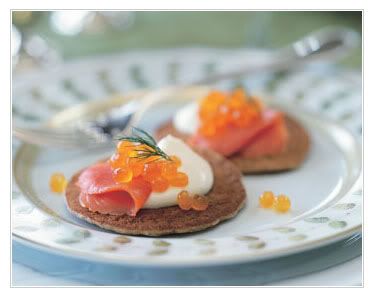 Buckwheat Blinis with Smoked Salmon and Crème Fraîche
INGREDIENTS
* 1/2 cup all purpose flour
* 1/3 cup buckwheat flour
* 4 teaspoons sugar
* 1 1/4 teaspoons active dry yeast
* 1/4 teaspoon (generous) salt
* 1 cup whole milk
* 3 tablespoons butter, cut into cubes
* 2 large eggs, lightly beaten
* Melted butter
* Crème fraîche
* 1 (4-ounce) package thinly sliced smoked salmon
* Salmon roe
* Fresh dill sprigs
PREPARATION
Whisk first 5 ingredients in medium bowl.
Place milk and butter in small saucepan. Stir over low heat until butter melts and thermometer registers 110°F (43.3°C) (if mixture gets too warm, cool until temperature returns to 110°F). Pour warm milk mixture into flour mixture and whisk until smooth. Cover with plastic wrap and let stand in warm draft-free area until doubled in volume, 1 to 1 1/2 hours.
Whisk buckwheat batter to deflate; then whisk in eggs. Do ahead Can be prepared 1 day ahead. Transfer to large bowl. Cover; chill (may increase in volume; rewhisk before using).
Preheat oven to 200°F (93.3°C). Heat griddle or large skillet over medium heat. Brush lightly with melted butter. Working in batches, pour 2 tablespoons batter for each blini onto griddle, spacing apart. Cook until bubbles form on top and begin to pop, about 1 1/2 minutes. Turn blinis; cook until golden brown on bottom, about 1 1/2 minutes. Transfer to baking sheet. Tent with foil and place in oven to keep warm while cooking remaining blinis. Do ahead Blinis can be made 1 day ahead. Cool, cover, and chill. Brush blinis lightly with melted butter and rewarm on baking sheet in 350°F (176.6°C) oven 5 minutes.
Arrange warm blinis on platter. Spoon 1 rounded teaspoon crème fraîche atop each. Top with smoked salmon. Garnish with salmon roe and dill sprigs and serve.