I don't know anyone who's so happy to go out so that she can put some makeup on. LOL! Here's my FOTD for Friday.

I'm going to show you closeups of my eyes because you can't really see it in the picture above. You'll find that my eyeliner isn't applied evenly for both eyes. I have a reason for that. This is because on my right eyelid, I have a scar that is kinda like a mini crater. When I fully open my eyes though, you can't see it because it goes inside the eyelid fold.

The uneven eyeliner application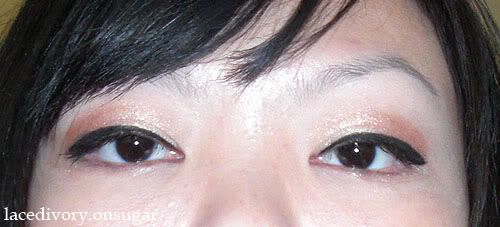 Tada! It's gone

For Face: Shu Uemura's Black Compact Foundation, Clinique's Blushing Blush Powder Blush in 104 Carefree Coral and Physicians Formula's Magic Mosaic Multi-Coloured Custom Blush in Nude/Warm Nude.
For Eyes: Urban Decay's Primer Potion, M.A.C.'s eyeshadow in Vanilla (highlighter), 4 shades from Physicians Formula's Shimmer Strips Custom Bronzer, Blush & Eye Shadow in Malibu Strip, Revlon's Colorstay Liquid Liner in 01 Black and Lancome's Virtuôse Precious Cells Mascara in 01 Black.
For Lips: Nivea's lip balm, Bobbi Brown's lip colour in Brown and H&M's Lip Gloss in Icicle.