Today's FOTD is made up of blues (think shimmery, highly-pigmented, royal blue and turquoise) and whites. I'm loving it! In fact, I am posting up three picturse of me in it because I like the final look so much. Here are the pics!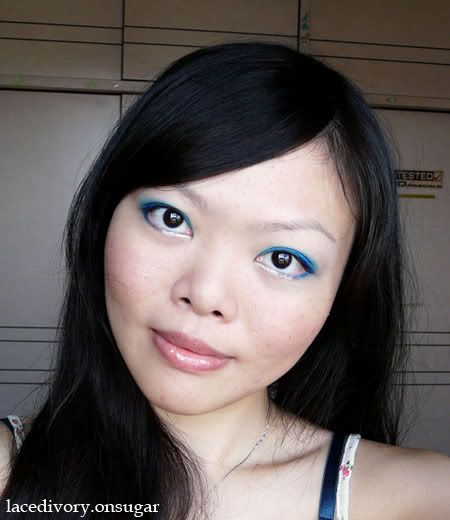 Tell me you like it too! Here are the things I used for this FOTD:
For Face: Shu Uemura's foundation in GE 764 SPF 26 and Clinique's Blushing Blush Powder Blush in 104 Carefree Coral.
For eyes: M.A.C.'s eyeshadow in Vanilla (highlighter), Urban Decay's 24/7 Glide-On eye Pencil in Electric, Cyber Colors eyeshadow in Opal 06 (inner edges of bottom lashes), Makeup Forever's eyeshadows in shades 83 and 167, Shiseido's mascara base and Lancome's Hypnose mascara.
For lips: M.A.C.'s lipstick in Fast Play (Amplified) and H&M lipgloss in Calypso Dream.
This look will fit very nicely even if you have grey contact lenses on. However, if you have blue eyes, you should avoid this as it will be too much blue on your face. Match this with a little blue in your outfit, go all out with a blue dress or even try it with white and gold. I like this overall effect. It's got this tropical – ocean thing going on. I should do one with turquoise, green and gold sometime. That would be like, perfect with all that Jamaican pans and coconuts!