Remeber a few days back when I told you about Email Diamant? Well I came across a pharmacy and found Crest Whitestrips Pro and have since stopped using the former!
The box of strips that I've got is to be used over 14 days, twice a day for 30 minutes each time. So I supposed the product that I have is the 6% Hydrogen Peroxide one (it's the one with the lowest concentration of hydrogen peroxide in the entire range).

The front of the box
The back of the box showing you how to use the strips

If unsure, there is also a little pamphlet in the box which describes how to put the strips on. We have to put the upper strip on first, and then after removing it, put the one at the bottom. I, however, put two strips at one go because I don't want to wait for one whole hour! Also, we can't brush our teeth with fluoride toothpaste before using the strips because the fluoride will block entry of the gel into our teeth, therefore reducing the efficiency of the product.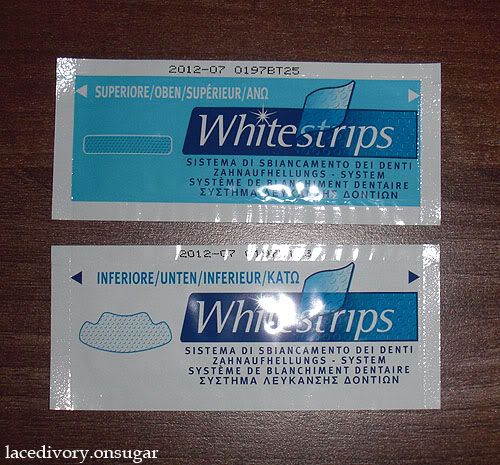 Two strips for each application – the one above for the upper teeth and the one below for the bottom teeth (and now we know now that greek people use Crest Whitestrips too LOL)

I've used this only twice out of the 28 times and I haven't felt anything bad, like extra sensitivity or whatever that some people have experienced. My teeth aren't much different from before I used them but I'm sure I just need more time. I hope it works for me! I'll definitely blog about the results after using it so keep a lookout! Here is the ingredient list and I hope it helps you to decide if you want to get this.

Ingredient List

Purified water, Hydrogen Peroxide, Saccharin, Carbopol 956 (this one's in french because I can't find the english translation), Sodium Hydroxide, Sodium Acid Pyrophosphate, Sodium Stannate.