I decided to do a spring cleaning of my makeup collection last night because I was gonna go get some makeup today. *beams* This was what I had stashed up in my cupboard:

Makeup palettes from Bobbi Brown and Chanel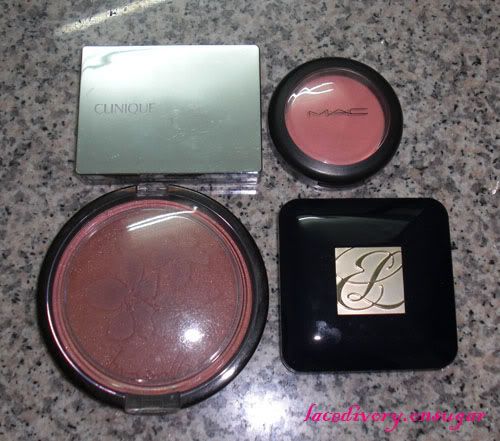 Blushes and bronzer from Clinique, MAC, Estee Lauder and Yves Rocher (clockwise from top left)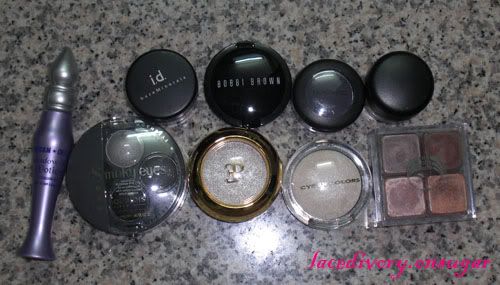 Urban Decay's primer potion and eyeshadows from I.D. Bare Minerals, Bobbi Brown, MAC, The Body Shop, Cyber Colours, Ed Pinaud and Bourjois (clockwise from top left)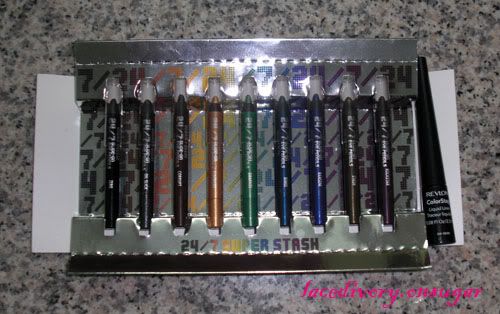 Urban Decay's 24/7 Glide-on Eyeliner mini set and Revlon's Colour Stay liquid liner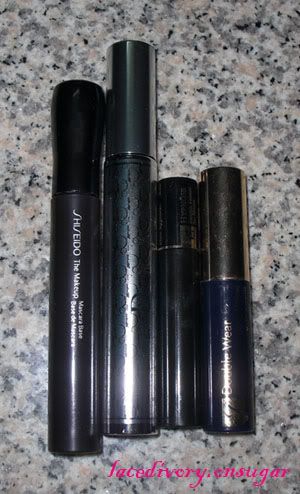 Shiseido's mascara base, Diorshow Iconic Extreme mascara, Lancome's Hypnose mascara (gift from my man) and Estee Lauder's Doublewear Zero Smudge Lenghtening Mascara
Lip glosses from H&M, MAC's Lipglass, MAC's tinted lip balm and Bobbi Brown's lip colour

That's not a lot right? Anyway I threw away a few things immediately after I took the pictures. Had to get rid of my MAC Lipglass, blush from Clinique and bronzer from Yves Rocher. I also threw away my eyeshadow from Splash (not pictured) because I realised that I've had it for more than 4 years! The colour was still awesome but it had to go.
And now for my new makeup! Today was makeup shopping day. I decided that I needed more eyeshadow colours and I had decided to get some from Shu Uemura because I had heard about their great quality and pigmentation. I also had to get a compact foundation from Shiseido because my MAC Studio Fix is running out and I want to try something else. So here was what I came home with:

From Shiseiso: Sheer Matifying Compact with case and Pureness Foaming Cleansing Fluid
From Shu Uemura: Farfallina lashes (!!!!) and three eyeshadow colours. The rest were freebies!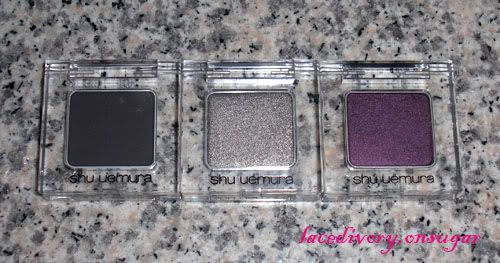 The three eyeshadow colours up close: M Black 990 (a matte black), ME Olive 471 (new range) and IR Purple 795 (left to right)

I can't wait to try them out! Now I really need a makeup box to put everything in. I also wanna get more colours. The ones from Shu Uemura seemed soooo pigmented when the SA used a BRUSH to apply them on my hand. Usually, brushes don't pick up a lot of colour like sponge applicators so I was really surprised with what I saw. It's a good thing too, because I only have brushes! I didn't get the lash glue from Shu Uemura because it was out of stock islandwide! Madness. The new stock will only be in on the 1st of March, so all you girls take note!
Anyway, I just did a review on my new GEO tricolour contact lenses at my blogger page so do check it out!