I did a light natural look today for our lunch date at Window on the Park, a restaurant at Holiday Inn Orchard City Centre. Here are two pictures taken under indoor lighting and natural sunlight followed by one more closeup with my camera's flash.

Indoor lighting
Natural lighting (lip colour's gone)
With flash

The makeup I used was simple.
For my foundation, I used the sample that was given to me by the SA at Shu Uemura, shade GE 764. Testing it out to see if I should get this after my MAC one finishes. My blush was Estee Lauder's Signature Silky Powder Blush in 02 Pink Kiss. I didn't add concealor and primer because I don't like putting too much stuff on my face.
For my eyes, I used MAC's Vanilla as a highlighter. As eyeshadow, I used two colours – MAC's Nylon (shimmery golden) and The Body Shop's Shimmer Cube 06 in Marshmallow (pink). As for the eyeliner, I used The Body Shop's Shimmer Cube 06 in Dark Chocolate (dark brown).
Save the smokey eye for evenings because they are more intense. In the day, it's better to look brighter and more alert. Brighter colours make the eyes look bigger. Fake lashes are OK if they are not too voluminous. Here, I simply used Dior's Diorshow Iconic Extreme for my mascara, without my Shiseido mascara primer. My lip colour was MAC's lipstick in Fast Play.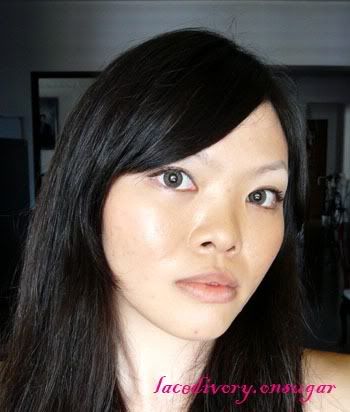 One final picture for the day (lip colour's gone)

The contacts I have on are from the GEO Tricolour series and they're in grey. They are lovely.