I just couldn't wait to try my new lip colour out! Here is my FOTD.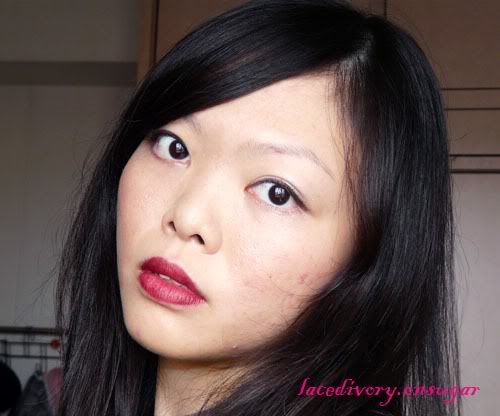 Sorry about the messy hair
I love love love this colour! It's "Diva" from MAC Cosmetics and it has got a matte finish. It's a really dark, intense burgundy shade with blue undertones – goes perfectly well with Asian skin tones! The trick to pull off such lips with attitude is to make your eyes simple so that your lips stand out. Here, I used Cyber Colors' Opal 06 and the light and medium shimmery greys of Bourjois' Smoky Eyes palette (01 Gris Dandy) for my eyeshadow shades without my UDPP (yes, it came in the mail yesterday!). For eyeliner, I applied a thin line of Shu Uemura's M 990, which is a matte black. I didn't use liquid liner because a shadow liner creates a softer look than a very well-defined, drawn out outline. I didn't even use a highlighter for this look. My blush was my usual Estee Lauder one (see previous entries). My mascara was also my usual Diorshow Iconic Extreme without a primer.
I did photoshop the pictures, but only contrast and brightness was changed to make the pictures pop! So yes, you can still see my acne scars and some zits. But whatever. I have nice lips. *smile* Oh and do remember not to pile on colour on the eyes and cheeks unless you want to look tranny-ish or drag queen-ish. Have fun doing this look yourself!