Just a quick FOTD for this afternoon. It's nothing impressive since I usually go out in the day with light makeup. I apologise for the lack of closeups. Actually, I really just want to show you my new fringe. I cut it myself a few nights ago when it was getting too long and was giving me problems. You know how they say the eyes are the windows to a person's soul? My fringe was like a curtain that wouldn't be held up!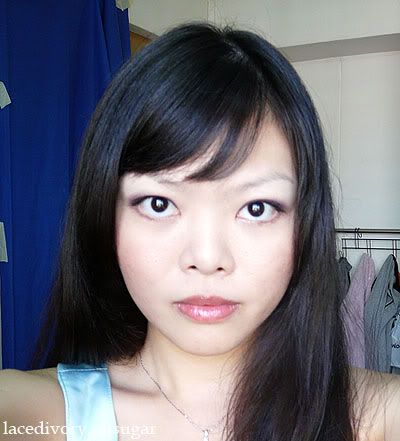 For Face: Shu Uemura's Black Compact Foundation, Clinique's Blushing Blush Powder Blush in 104 Carefree Coral and Physicians Formula's Magic Mosaic Multi-Coloured Custom Blush in Nude/Warm Nude.
For Eyes: Urban Decay's Primer Potion, Urban Decay's 24/7 Glide-on Eye Pencil in Ransom, M.A.C.'s eyeshadow in Vanilla (highlighter), a shade from Chanel's Les 4 Ombres palette in 08 Vanités, Shiseido's Mascara Base and Lancome's Hypnose Mascara Volume.
For Lips: Nivea's lip balm, Bobbi Brown's lip colour in Brown and H&M's lip gloss in Call Me Plum.