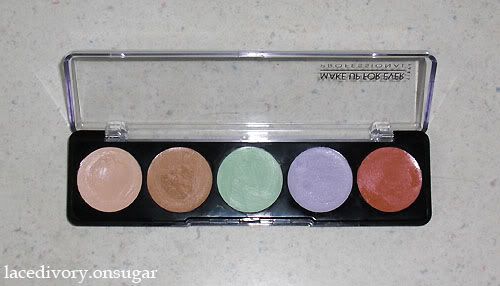 Make Up For Ever's 5 Camouflage Cream Palette in Shade 05

This was one of the items that came in my student package when I took the Fashion Makeup course at Make Up For Ever Academy Singapore last year. I've never used the palette on myself because I'm not really a concealor kind of girl; I don't really like layering on too much makeup on my skin. I have, however, used this palette on my models for classes and here is my tiny review based on what I know.
More about the product:
The palette contains 5 different kinds of cream concealors, each in a different shade for different purposes. The shades from left to right are 13 (light beige), 16 (brown), 17 (green), 18 (purple) and 20 (reddish brown).
What I like about the product:
1) The concealors in this palette are very, very highly pigmented so only a very tiny amount is required each time. What you see is what you get.
2) The concealors are easily blended.
3) To have 5 different kinds of concealors all in one place is awesome. In my opinion, this is the best selling factor of this palette.
Neutral feelings about this product's:
1) Compound base. The concealors are of a creamy texture. Some people prefer liquids over cream but to me they aren't much of a difference, since I don't really use concealors.
What I dislike about the product:
1) The price. I can't remember how much it cost me exactly as I've lost the receipt, but I know that it's pretty expensive!
Other thoughts:
This is one palette that makeup artists could have if they don't already have one.