The Make-up Blogette is having a giveaway (contest ends November 15, 2010) and I'm participating! Here's what's in my makeup pouch!

My shiny gold Bobbi Brown makeup pouch

I'd gotten this pouch a couple of years back and it's served me well. I got it when I bought my first set of makeup brushes, which I'd chosen to get from Bobbi Brown. What I love about this pouch is that it's a limited edition one and it was on sale only for the Christmas season then. Also, it's waterproof! Now let's get on to what I usually put inside…

Things in My Makeup Pouch
Looks empty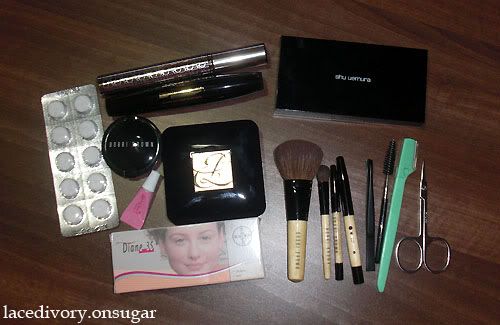 But it isn't at all

1) Shu Uemura's Black Compact Foundation
2) Estee Lauder's Silky Powder Blush in 02 Pink Kiss
3) Bobbi Brown's tiny eyeshadow palette with shades Bone, Woodrose and Mahogany (I bring this with me when I travel because it's soooo tiny and it's got all the colours needed for a neutral look!)
4) Spring Heart's Eyelash Fix (It's too tiny to put in my other makeup bag because then I take a long time trying to find it when I need it.)
5) L'Oreal's Ultra Volume Collagene Mascara
6) Dior's Diorshow Extase Mascara (You never know when you will run out of mascaras!)
7) Bobbi Brown's Blush Brush
8) Bobbi Brown's Eyeshadow Brush
9) Bobbi Brown's Ultra Fine Eye Liner Brush
10) Bobbi Brown's Lip Brush (Did you see the jewels I stuck on this brush??????? =D)
11) Brow Brush
12) Tweezers
13) Brow Shaver
14) Tiny scissors for brow trimming
15) Diane 35 (Nothing says good skin like contraceptives.)
16) A pack of Dhamol (Alternative for parcetamol or aspirin.)
And there you go! If you'd like to take part in this contest, hop on over to The Make-Up Blogette's Entry.