Eyeliners are really growing on me. Ever since I started the trick of lining my eyes with two different eyeliners, I've been doing it ever so often. Today though, I added an extra liner colour because I really needed a perk-me-up. Take a peek!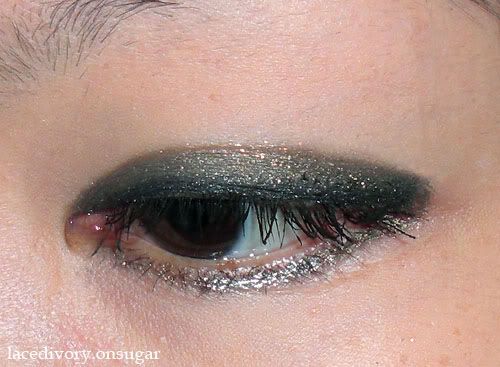 I loved the outcome as it was kind of like a mini glam smokey eye albeit a discreet one and suitable for the day. Here are the products I used:
For Face: Shu Uemura's Black Compact Foundation, Clinique's Blushing Blush Powder Blush in 104 Carefree Coral and Physicians Formula's Magic Mosaic Multi-Coloured Custom Blush in Nude/Warm Nude.
For Eyes: Urban Decay's 24/7 Glide-on Eye Pencil in Stash, L'Oreal's HIP Color Chrome Eyeliners in 910 Black Shock and 915 Silver Lightning and Dior's Diorshow Extase mascara.
For Lips: Labello's lip balm.
This look is so wearable and easy to do. Just three eyeliners – the silver one in the middle of the lower lids to make the eyes appear brighter and more opened – and you're good to go. I was in a hurry so the mascara looked a tad messy. I used my Clinique blush too because it's got shimmer in it and everyone knows shimmer helps to make you look more awake!
I had tied my hair into a messy inverse fish braid because I had to go for a laboratory session. It's pretty! I wonder who invented the fish braid…