To celebrate the end of the very stressful exam period and the start of our 2-week Christmas holidays, I decided to put on my M.A.C. lipstick from the Liberty of London collection. I've also started to venture into the area of donning the winged liner; I find it pretty exotic.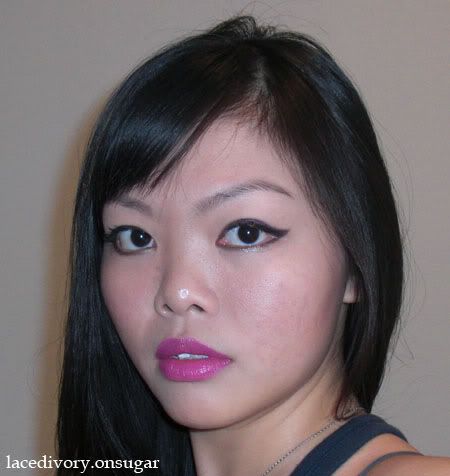 For Face: Shu Uemura's Black Compact Foundation, Physicians Formula's Magic Mosaic Multi-Coloured Custom Blush in Nude/Warm Nude and H&M's Blush in 15 Bronze.
For Brows: Bobbi Brown's eyeshadow in Chocolate Mauve.
For Eyes: Urban Decay's 24/7 Glide-on Eye Pencils in Rock Star and Stash and Dior's Diorshow Extase mascara.
For Lips: Labello's lip balm and M.A.C.'s lipstick in Petals & Peacocks from the Liberty of London collection.
The winged liner + outstanding lip colour is my current look for when I want to party but am not in the time and place for it (i.e. shopping with the girls). The reason I switched back to my Shu Uemura foundation is that Nivea's Ideal Finish Mousse Foundation gave me breakouts after some time of using it (I've since added that to my review of the foundation). Because I don't use concealor, you can see my pimple scars from the study stress and the Nivea foundation. It's always good to have some reserves when trying out new products – never forget this rule!