If there's anything I'd like to get myself this Christmas, it's THIS. Holy cow. I love love love Urban Decay's 24/7 Glide-On Eye Pencils and this is 24/7th heaven.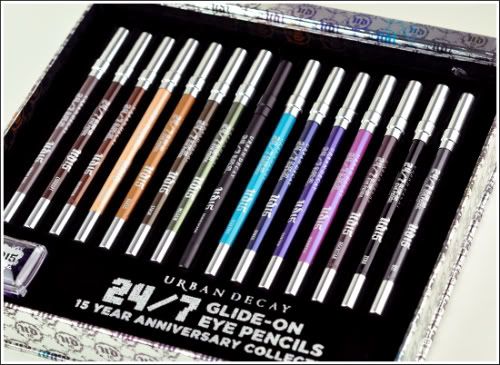 I already own some mini 24/7 Glide-On Eye Pencils from Urban Decay but this new set is a limited edition to celebrate the brand's 15th anniversary. There are some really beautiful colours like Midnight Cowboy and Asphyxia that can be used anytime of the day.
The colours in this set are: Stray Dog, Corrupt, Bourbon, Midnight Cowboy, Baked, Stash, Mildew, Perversion, Electric, Binge, Ransom, Asphyxia, Rockstar, Zero and Uzi. The set will be launched in 2011, so I'll have to wait and pamper myself with something else for Christmas.
Would you be getting this?