Naive Beauty is an Australian beauty brand and this is my first run-in with a product of theirs. The Magneteyes Under Eye Algae Mask range serves to reduce puffiness, dark circles and wrinkles around the eyes. Now let's see if it worked for me!

More about the product: The masks are Naive Beauty's first products and are sold as ten separate pairs in a box. They are made from naturally derived ingredients like algae, collagen and cellulose and are paraben free.
To use them, simply peel the backing off to get the pads out. Then, place the eye pads under your eye (instructions with diagrams are provided in the box) and leave them on for about half an hour. After removing them, you don't have to wash your face. Just apply your normal eye cream over to lock the moisture in.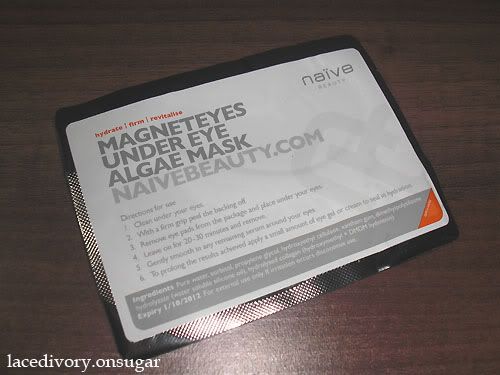 Instructions on the backing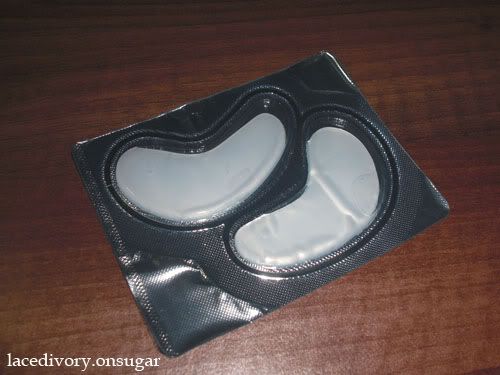 A pair of the eye pads
Me and my freshly cleansed face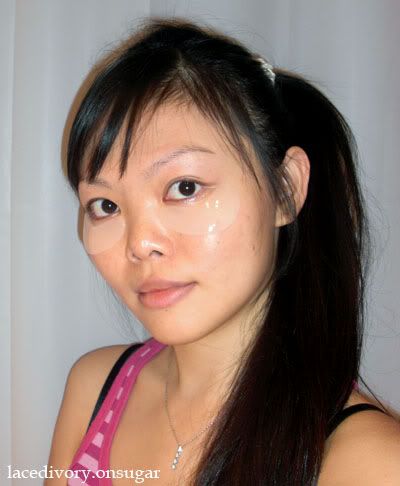 With eye pads on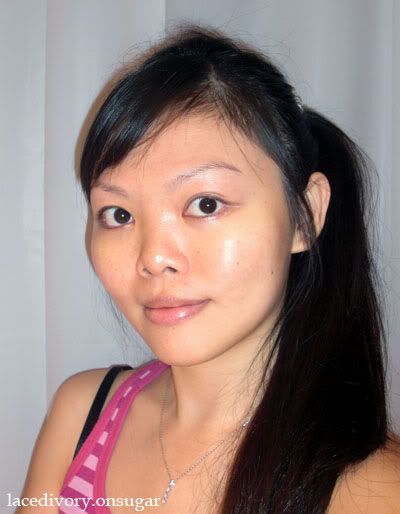 After removal of the eye pads

What I like about the product:
1) Naive Beauty does not test on animals!
2) The cooling sensation when applied onto my skin.
3) No allergic reactions on my side.
4) Slight fragrance of the masks.
5) It works. The instant I peeled the masks off, I could see a significant brightening of the under eye area. Eye bags were gone and so were the dark circles. I'm not so sure about wrinkles though, because I don't really have them yet (kudos to my twice daily regime of eye cream). Seriously, I was really impressed by the change and only after one usage!
Neutral feelings about this product's:
1) Packaging. I think it could be prettier.
2) Although you don't have to lie down with the masks on, you can't exactly laugh or make exaggerated facial expressions or the masks will slide down.
What I dislike about the product:
1) It's pretty hard to peel the backing off to get the masks out.
2) When first put on my skin, the masks slide down all the time and only manage to stay put after a while when they have sort of dried up a little.
Other thoughts:
I really like this range of eye masks. It reminds me of the time I tried Laneige's Water Bank range and was surprised with the immediate results. The effect of a brightened under eye area doesn't last for long though, so I advise using the masks only when you really need to, like when you're headed for a big party and want to look your best, or when you've just had a gruelling period of too much studying!

Ingredient List

Pure Water, Sorbitol, Propylene Glycol, Hydroxyethyl Cellulose, Xantham Gum, Dimethylpolysiloxane Hydrolyzate (Water Soluble Silicone Oil) and Hydrolysed Collagen (Hydroxymethyl + DMDM Hydantoin).

Wait, there's more

I'm giving away one box of masks each to two lucky readers! All you have to do is to post a comment on this entry (something relevant to the entry) and be an onsugar follower of my blog. This giveaway is open to international participants. Contest period starts immediately and ends at the end of the month! I'll pick the two winners via Random.org and notify you if you've won. It's my first giveaway ever, so please do support me and take part! =)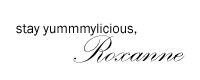 * This product has been sent to me for my review. Like all my other reviews, everything stated here is objective and honest.