Earlier this month, I received my Fairy Drops Platinum Mascara in the mail. I've been using it every weekday for work and I'm starting to feel that it might be my Holy Grail mascara. Here are some pictures and a review!
As I've mentioned in my haul post, this mascara was created by a Japanese television personality. It's a fibre mascara that contains conditioners to lengthen your lashes as well.
– I really like the packaging. It's a fresh idea and very girly, totally befitting the kawaii image that many Japanese girls love.
– The shape of the wand is very interesting as well and I've never seen anything like it. Three "bulbs;" perhaps these are the "fairy drops?" Because the wand is also curved, I have no trouble reaching the lashes at the inner and outer corners of my eyes.
– I love fibre mascaras and I prefer them to normal inky ones anytime. This is because the fibres are able to stick together at the ends of your lashes and make them seem longer than they are. The product really gives the appearance of long, curled lashes with no clumping.
– It washes off easily with warm water.
– My eyes haven't reacted negatively to the mascara.
– The mascara tends to flake occasionally throughout the day.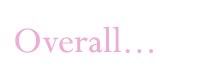 I'm really glad I tried this out. Ever since I started on it, I have completely abandoned my Dior and Bourjois mascaras. The Fairy Drops Platinum Mascara is a great product that voluminises (depending on how much mascara you use), lengthens and curls your lashes. On top of that, it results in natural-looking lashes (as opposed to the feathery, heavy ones) and is also long-wearing – I have this on for about 10 hours a day.
I am thinking of trying out the other Fairy Drops mascaras just to see which one works best for me. I hope it doesn't run out soon!