I realised there weren't many reviews on this product on the internet yet so I might as well do one right now, and maybe it will help you decide whether you'd like to get it. I actually compiled the list during work this week. Enjoy!
More about the product: The technology of mousse foundation is relatively new and this is Nivea's first mousse foundation on the market. It's supposed to give a matte finish when applied.
What I like about the product:
1) The price. It's a drugstore product and therefore the price is always affordable. I got this on a discount of 2 Euros and an additional 15% off the original price so it totalled less than 10 Euros.
2) The light texture. When I first tried it on at the store, I fell in love with the mousse. It was my first time trying out a mousse foundation and it went on smoother than the liquid foundation from Une. It also spreads easily.

3) It hasn't given me any breakouts, which is a plus point, given that it's a drugstore brand (most of the time my skin's got a bad reaction to drugstore brands).
4) It's got a buildable coverage and manages to conceal the slight redness in my skin very well.
5) Although there are only 3 shades available, I had no problem finding one that fits my skin tone well (03 Beige).
Neutral feelings about this product's:
1) Packaging. It comes in a glass tub which can make it a tad inconvenient to carry around when I travel.
2) Appearance on my skin. It looks natural enough but after a while, when the oil starts coming, it becomes more obvious that I'm wearing a foundation.
3) The staying power is OK. It's not really transferable unless I blot fervently.
What I dislike about the product:
1) It doesn't really help my skin stay matte throughout the day.
2) It kinda seeps into my pores so I think this makes them look more obvious (see picture below).
3) It gave me breakouts after having used it for a period of time!!!!!!
Other thoughts:
I apply this foundation over my daily skin care routine, which includes Dalacin T gel, Clinique's All About Eyes Rich moisturiser and Clinique's Moisture Surge Extended Thirst Relief moisturiser, so maybe it's due to this that my skin doesn't stay matte for long. I also apply it using my finger, in the same way I apply my gels and creams. I don't set it with a powder foundation after because I don't like the feeling of having too much stuff on my face.
I would definitely not get this if I were in a place with Singapore's climate (hot and humid) because it doesn't help with oil control very much. So if you have very oily skin, it's better to stick to compact or powder foundations. However, I recommend it to young teens trying out mousse foundations and who are in the stage where they are experimenting with makeup.
And finally, some pictures to go with the review: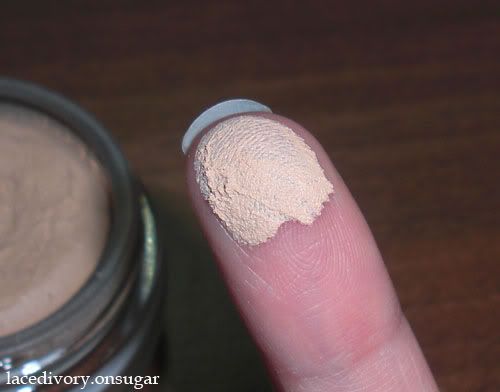 Shade 03 Beige
Before blending
After blending – foundation seeps into lines

I hope this was helpful! By the way, I am reaching 50 followers and am planning to do a giveaway once I hit that number. Any suggestions? 😉