I love Dior's makeup for almost all their fashion shows. It's always dramatic but not overly so. This time, Dior makes use of stick-on sequins and beads to complement silver eyes and bold red lips. There's something about sequins and all that glittery stuff that make models seem ever so ephemeral, as if they just dropped down from heaven for that twenty minutes of runway perfection. One day, I'd like to play around with these things and see what I can come up with!
Anyway, just a little update on what I've been busy with. Well, I'm still finishing up my internship and now that the thesis is over, I feel more relaxed with my experiments. When I'm not occupied with the instruments and samples, I'm busy sourcing for more PhD offers in France, and of course applying for the positions. I'm really praying that I'll get a positive reply!
Apart from that, the coming weekend is another long one. Technically, Thursday is a national holiday and that means nobody works on Friday. LOL. Oh how I love the French way of doing things. I'll be going to a 3-nights-in-a-row outdoor party concert thing so please, don't rain on us! Probably a good time to do an FOTD entry too, what do you think?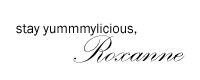 Image credits: TheBlondeJournal.com